Fuel prices
| 26/11/2022 | Diesel | Euro 95 | Super 98 |
| --- | --- | --- | --- |
| Price L Lux. € | 1.66 | 1.539 | 1.756 |
| Price L Bel. € | 1.853 | 1.811 | 2.015 |
| Advantage | 0.193 | 0.272 | 0.259 |
| Advantage 40L | 7.72 | 10.88 | 10.36 |
Total station Martelange 10 at your service
The Total Station in Martelange 10 welcomes you daily from 6 am to 10 pm. Apart from traditional services, it offers a fuel pump for trucks, petrol tins and the 2 stroke mix.
Total Martelange, an ARS Station
For over 35 years the ARS Group has operated service stations in the Grand Duchy of Luxembourg and in Belgium. Our teams welcome you every day to offer you the best service.
Our slogan: "Service with a smile included!"
The services
Take advantage of Luxembourg prices, 15 minutes from Bastogne.
The station
Fuels: Diesel, Diesel Excellium,
Euro 95, Super 98.
Petrol tins.
2 strole mix.
Gas tanks.
Fuel pump for trucks.
Tyre inflator.
Lubricants, windshield washer fluid, antifreeze.
Car products and roadmaps.
Refuel 24 hours a day thanks to the outdoor payment terminal.
Shop
Tobacco products: cigarettes, rolling tobacco, cigarillos, cigars.
Beverages with a special selection of wines and champagnes of the Centre Bohey, of single malt whisky and regional beers.
Sandwiches, salads and food products.
Newspapers.
Mobile phone top-up vouchers.
The ARS fuel card
The ARS fuel card for businesses is accepted at the Total Martelange 10 station. Nearby, secure, access 24/7 and discounts on your purchases; find out about all your advantages.

Shop&Station vouchers
Let your employees enjoy the pleasure of gift vouchers Worth €25, the Ticket Shop and Station allows you to refuel and to buy products in the shop.
Your loyalty card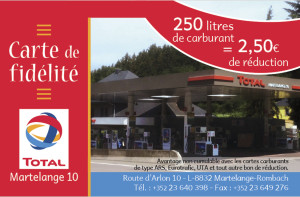 Your loyalty is rewarded at the Total Martelange Station 10: you will receive a €2.50 for every 250 litres of fuel. This offer cannot be combined with the fuel card.
Administrative information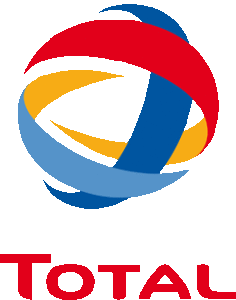 Station TOTAL
Martelange 10
ARS Exploitation SA